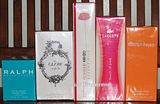 She's giving away fabulous prizes like Tory Burch Bags and Cartier Bags.
But wait, there are still more awesome prizes to be won like perfumes, cosmetics and other additional items Eihdra would up as the contest progresses.
Exciting, isn't it?
Now here is what you need to do:
1) Make a blog post about the contests
2) Like Eihdra's FB Page
3) Follow and Subscribe to her blogs
4) Add her badge on your sidebar
5) Other optional entries are Twitting about the contest on Twitter and a shoutout on your FB Wall.
That's it! For additional information about the contest you can visit it
HERE.
Aside from Eihdra's generosity, this contest is made possible because for these wonderful sponsors: